living and loving the life of a photographer

30/May/2007
Bangalore Loves Volvo
A week ago I had the pleasure of getting to know Helene Rothstein, a freelance journalist from Sweden, on a sabbatical in India. Helene will soon be joining a major newspaper in Gothenburg*. She wanted me to illustrate a few story ideas she had, one of which had to do with the many ways that Bangaloreans get to work.
So there we were on a busy-as-usual morning at a busy-as-ever intersection of the rather lawless Suranjan Das Road intercepting bank employees, flower sellers, and of course software types in their morning rush and asking them, "Are you heading for work?"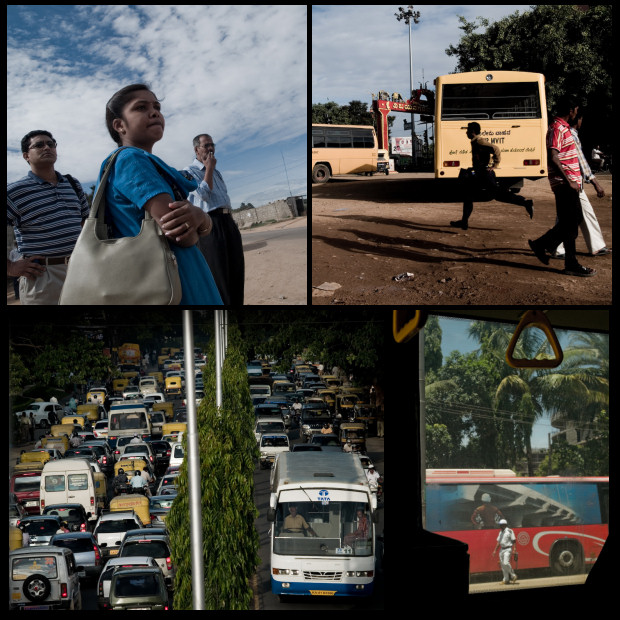 When it comes to public transportation, Bangalore has a love affair with the red Volvo buses. I thought it would be damn cool to visit the factory and see what goes on there. With a Swede on a J-Visa by my side, getting access was a breeze. Even the ex-serviceman security honcho whose communication skills was expectedly limited to one word—"Cameranotallowed"—was no match for Helene's credentials. I got my license to shoot!
India never had the benefit of Volvo cars previously. So when Volvo introduced their buses on inter-city routes five years ago (to coincide with new highway developments), the response was surprisingly resounding, making volvobus a brand by itself. For decades, Tata and Ashok Leyland created lorries that romanticised the inhumanity of long-distance travel, and buses that romanticised lorries. In came Volvo, and taught everybody that buses and trucks are different beasts. It was an absolutely fantastic experience to see and hear from an engineering perspective, why we love our volvobuses.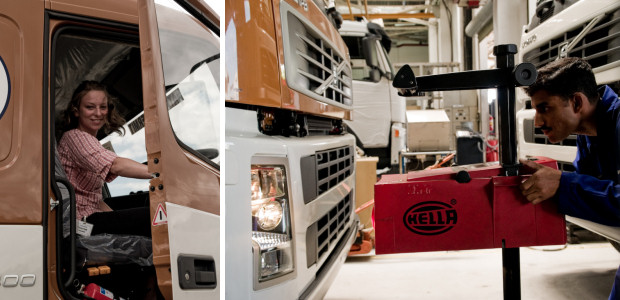 The highlight of the day was a visit to the driver training school on the campus. Mr. Nagaraj, who has trained over 15,000 drivers so far, took us on a tour of the test track and then offered the wheel to the first taker! Always game for try-before-you-buy, I jumped at the opportunity to take this macho toy for a spin (not too unliterally speaking). What followed in the next 10 minutes were actions that could potentially lead to the revocation of a driver's license. Of course, I didn't have one.
At this point, I have to confess my secret. Despite 30 years of a fruitful life, I have never driven a car. (This deserves a blog post of its own.) So when it came time to "just switch to first gear and slowly release the clutch," the truth was almost out. I had some trouble finding first gear! Through the sheer dint of biking knowledge, I managed the accelerator-brake-clutch coordination while Nagaraj obliged to take care of the gears for me. Some three kilometres later, we were back to the starting line.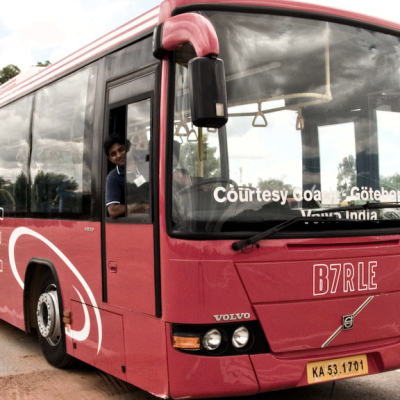 So there you have it. If you can ride a bike, you can drive a truck. There's nothing to it!
* Gothenburg, apart from being famous for its School of Photography, giving us demented contemporary photographers such as JH Engström, is also world headquarters of Volvo.
|