living and loving the life of a photographer

29/Jun/2008 (permalink)
Where have all the flowers gone?
Protests drive democracies. While I have my doubts over the bigfatdemocracy that we are, there's no doubt whatsoever that I love a good protest on a Sunday afternoon. With the weather in Bangalore being as beautiful as it is, I'm happy to show up—and shoot—for any cause.


More images from the GLBT Pride
I arrived at the Brahmanic enclaves of Basavanagudi just in time to overhear a snatch of conversation between a policeman and a curious onlooker who demanded to know what the tamasha was all about. "It's a rally for those who live on the fringes of society," explained the policeman, half-unsure himself. Some give-and-take has occured here due to my unreliable translation from Kannada, but it does demonstrate a certain lack of vocabulary to address gays, lesbians, bisexuals, and transgenders in India. (Here's a good blog post that sums up Bangalore's first GLBT pride.)
A lot of people refrain from participating in causes that don't affect them personally. I'm reminded of that poem by Pastor Martin Niemöller, which at first sounds like a cheesy facebook forward, but is actually a sound warning against the rise of every nasty -ism we've ever known. But what about those who are loathe to show support for their own cause? The only two gay dudes I know (both share a birthday, interestingly) didn't show up, citing the same reason I've heard so often: To what avail?
Apathy and minority rights make strange bedfellows. And speaking of bedfellows, it's important to shatter that Ahmadinejadian illusion: There are no homosexuals in my country. In a public demonstration, everyone gets a chance to clarify where they stand, through attendace and/or utterance.

More images from the GLBT Pride
What struck me most when the GLBTs marched from National High School to Puttannachetty Town Hall was how many of them there were. Their everyday invisibility makes their visibility today all the more dramatic. Sexual minorities from every socioeconomic strata, from flesh trade to advertising, were walking together within hand-shaking distance of each other. This is a major breakthrough in itself.
Some were beaming a just-came-out smile. Some saved their best clothes for this day and danced like there would be no tomorrow. One woman signed her name against the words "Free at last". To that avail, it was a historic day.
05/Mar/2008 (permalink)
It happened one night in a Delhi pub
With nothing much to do after the mammoth exhibition opening, I decided to explore Delhi at leisure. As I was strolling around Connaught Place on a Sunday morning with a song on my lips—this cliché is necessary for the progress of this story, so please bear with me—somebody stopped me and enquired what song that was.
We thought about it for a few seconds and agreed that it was jana kahan hai mujhe by Swarathma, an upcoming folk/fusion band from Bangalore. It was a tune that infected me a couple of weeks ago when I first heard them play at the Fireflies Festival.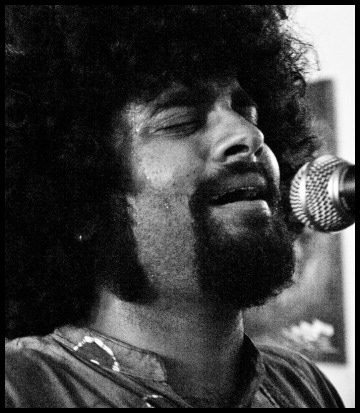 More images...
As it turned out, the guy who stopped me was the lead singer of a local band called Faridkot. He was one of the semi-finalists at the Radio City nationwide hunt for India's best Hindi band a couple of days before... and Swarathma won it! Apparently, NDTV aired interviews with them back-to-back with footage of the Vadehra exhibition. These were the two biggest non-political events happening in the capital on that day.
Even if you were stone deaf (and were watching NDTV with closed captioning), you could tell that Swarathma is the next big thing in Indian contemporary music. I learned that they were playing at Cafe Morrison that night, and went there to get to know them better.
***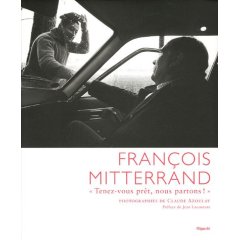 In early 2006, I had the opportunity to meet photojournalist Claude Azoulay at his Paris residence. He was happy to have an audience as he had just released his book, François Mitterrand: Tenez-vous prêt, nous partons, a photo-biography of the late president's years in and out of office. Azoulay had befriended a young Mitterand during the latter's early years as a union activist. When Mitterand eventually became France's president, Azoulay was there by his side to document his 14-year tenure.
I was captivated by the idea that one could actually pursue a single subject for decades, and I wanted to do something on those lines in Bangalore. It seems to be the trend that Bangalore is emerging as centre for contemporary music. [Aside 1: Of course, Nagaland probably has more home-grown rockers. Since most Indians can't locate Nagaland on the map, Bangalore wins. Aside 2: Bangalore got Black Eyed Peas when Mumbai got Shakira. Enough said.] But where should I look in a world of one-hit wonders and get-rich-quick schemes where people investments are fraught with risk?
I briefly dabbled in the idea that I could document the growth of the Raghu Dixit Project. No doubt, a fantastic investment, but let's just say that when you catch a wave, you could either rise with it or fall flat on your face. It's a question of balance.
***

A slow and quiet Sunday evening at Cafe Morrison. The crowd was slowly settling down with their drink. Vasu Dixit gathered his boys after the sound check and told them to play freely and boldy as this was their first performance as a "professional" band. So the victory at Radio City was a big deal after all!
In the hours that followed, Swarathma rocked the crowd with their impassioned music and folks couldn't help let their emotions run wild. Forget ipods and MP3s. Standing 3 feet away from the sound source is the real thing. At that distance, everybody who ever dreamt of becoming a singer—and I'm sure that's a broad swathe of humanity—begins to realise that dream most intimately.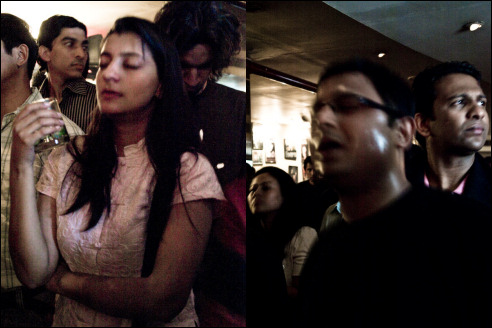 More images...
To think, I was whistling a tune in the morning and now here I was completely immersed in it. I'd like to believe that my chance encounters are something more than mere coincidence. Maybe a second chance to find that balance on a rising wave?
04/Mar/2008 (permalink)
Bhaiyya, yeh Contemporary kya hota hai?
Last weekend, I was in Delhi, where I saw lots of pics and bought a book. Alright, let me try that again with some flair.
Last weekend, I was in Delhi, where the smog hangs thickly and the bhaiyya-log wear swayters all year round, to attend what could have been the greatest thing going for the photographic arts in India this year.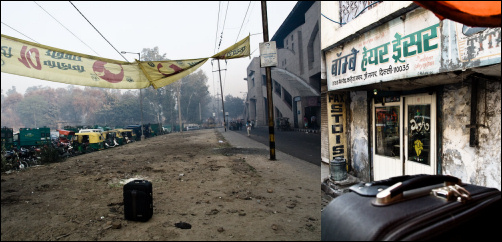 Just Arrived, Delhi.
Vadehra Art Gallery, traditionally a bastion of contemporary art, decided to throw its weight behind photography, now that folks seem willing to pay for it. Sunil Gupta and Radhika Singh were appointed as curators. Instead of rounding up the usual suspects, they spent months scouring the land far and wide and (rumour has it that they) considered the work of about 800 photographers. Nearly a year later, their effort manifests itself in the form of a massive exhibition of 163 prints from 86 photographers spread across two floors of Vadehra's Okhla gallery, punctuating the discussion (if any at all) on where contemporary Indian photography stands today. The exhibition runs concurrently at Grosvenor Vadehra in London. More info.
Last weekend, I was in Delhi because a couple of my prints were part of this historic exhibition.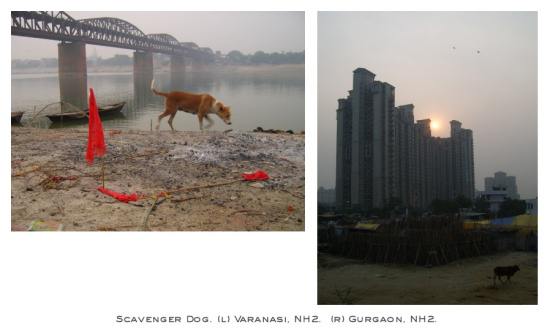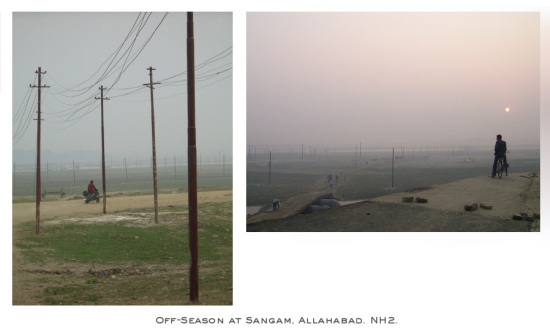 That's all very fine, but what can we make of two halls of unrelated, uncaptioned images of everything under the Indian sun? It's like reading 163 pages from 86 different novels. In that sense, the exhibition was simply overwhelming and smacked of a popular Delhi sport of namedropping. If it promoted any dialog about Indian photography, it was perhaps to point out that it's all over the place.
Also, 'contemporary' seems like a nice word to throw around in art circles. I'm not sure if some of the classical b/w images and rustic themes belonged there. My main grouse, however, was with the glaring omissions. A compendium of Indian contemporary photography would be incomplete without Anay Mann and Anita Khemka in it. I can take a very good guess as to what happened, but not here.
For those of you who still want to crack the contemporary photography puzzle, see India Now, a new book edited by Alain Willaume with Devika Daulat-Singh. I managed to get hold of a copy from Bookworm at Connaught Place for Rs. 2065.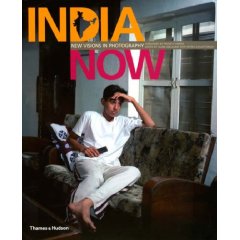 While Vadehra tries to encapsulate contemporary Indian photography, India Now's purpose is to lay out the contemporary photographic vision of India. Got it? And it stays true to its purpose beautifully. India Now opens with a few Raghu Rai frames, the sagging quality of which indicates that grandpa is unable to keep up with our digital times, and moves to greater heights from thereon.
One of the featured works is Stephan Elleringmann's Golden Quadrilateral series. I was Stephan's assistant for 8 weeks when we travelled about 10,000km on India's new highways. It was the personal snapshots that I made during that journey (using a shitty compact camera) that are currently on exhibit at Vadehra!
This entry was cross posted on mutiny.in. Follow the discussion there!
28/Feb/2008 (permalink)
Hey Bhagwan Video Shoot
If you're following the Indian contemporary music scene, you must have noticed a blip in your radar this week. The launch of Raghu Dixit's eponymous album was noted by magazines as diverse as Tehelka and Marie Claire (just two of many to which I subscribe). Raghu's first video from the album is Hey Bhagwan. Thanks to YouTube, I don't have to buy a TV to watch it.
The entire video was shot on a crispy, clear weekend way back in December 2006 in Mumbai, mostly at Mehboob Studios and the Bandra Band Stand area. I accompanied Raghu and his band of talented musicians to shoot the stills and to get some candid moments with the group. What an education it turned out to be! All those nagging questions about what goes on behind the making of a film were put to rest just by watching the director Siraj Bhattacharya, who made it all look so easy.
There is a saying that in the film-making industry at large, everyone's related to everyone else. So, the chain of relationships went something like this: Siraj is the drummer for rock band Pentagram, whose lead singer is Vishal Dadlani, who is one half of the Vishal-Shekar music director duo, who were thinking about founding a record label (Counter Culture Records) when they stumbled upon Raghu at a Bandra pub singing "I am in Mumbai waiting for a miracle". Nice story?
Back to Hey Bhagwan. The story here was that Raghu, a small-town guy, comes to Mumbai to make a living with his music. As he wanders about, he meets simple people and finds happiness in parting with his material possessions until he's left with nothing but his music. In the last scene, Raghu gives away his guitar and ascends to the heavens!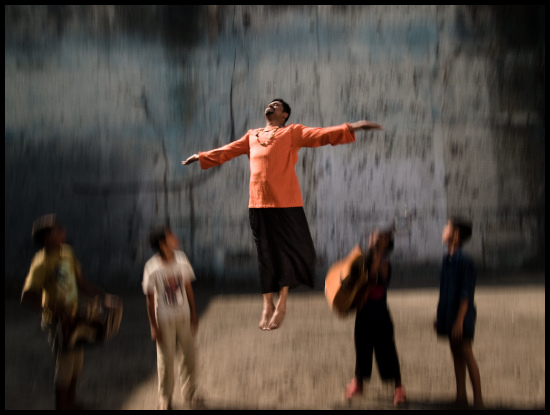 See the complete series
I salute those who can dream up such ideas and those who can execute them so beautifully. Sadly, the clarity and simplicity of the message is lost in the slicy-dicey editing. But I hope I did it some justice to the extent I could without getting in the way of Siraj's camera.
See the Raghu Dixit Project blog
24/Feb/2008 (permalink)
Fireflies Festival: Bangalore's Woodstock
I can't imagine how any social event that runs all night long can actually pull in huge crowds year after year. In that sense, the Fireflies Festival of Music, from dawn to dusk beside a languid lake beyond the back of Bangalore's beyond, defies my imagination. Once again, we Bangaloreans have lived up to our reputation to do by night what the world does by day—making sales pitches, running marathons, and rocking to folk music. Despite being a huge fan of sleep (a metabolic state, not a grunge band), I made the arduous journey to Fireflies ashram in godforsaken Dinnepalya. I was about two hours late, and just in time for the show to begin.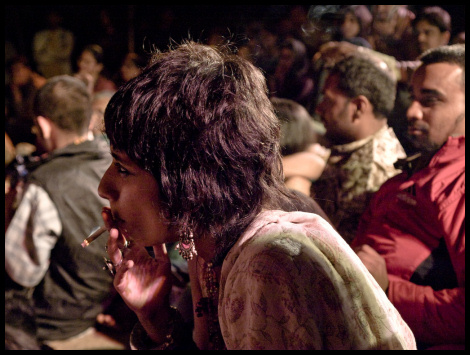 See the complete series
Fireflies is designed to defeat photographers. The lighting environment isn't exactly a blessing. Harsh stage lights with blackness for backdrop makes our lives less lovable. The seating environment is a definite curse. The stone seats of the amphitheatre seemed to turn colder and harder as the hours wear away. Enjoying a night of music under a banyan tree sounded like fun, except that we were squarely within the shitting field of every critter perched up there. Several hours into the show and I wasn't happy with what I was getting.
Then Bonnie Chakraborty, lead singer of Oikyotaan and a regular at Fireflies, came up on stage and made an astute observation. He said Fireflies is Bangalore's answer to Woodstock, which was a fantastic comparison to evoke because Woodstock, in my mind, was as much a historical event for photographers as it was for musicians. If Bangalore could stake any claim at all to some emerging counterculture, no matter how nascent, then its proponents were sitting on their hurting arses there that night.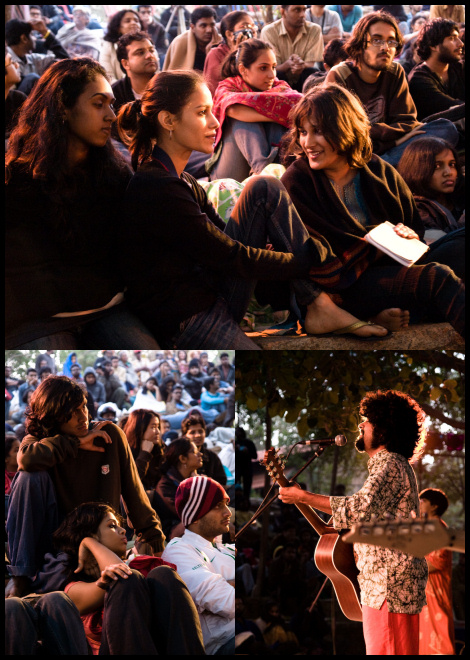 See the complete series
So it had finally dawned upon me (pun unintended for it was nearing 6am) that Fireflies for the photographer was not about musicans. It was about the audience—their hair, their attire, and the way they light up their smoke. Five years from now, would it look the same?
By the way, in case you were wondering, I thoroughly enjoyed the music and can't wait for next year!
08/Jun/2007 (permalink)
Annu Palakunnathu Matthew
Photo exhibitions galore in Bangalore this week. There's art for the masses and art for the classes. To start with, the Alliance Française demonstrates once again that its gallery is a socialist space, to put it diplomatically. All are welcome and the complex art of curation may please be damned.
The current exhibition on Light Paintings could have been the work of a newbie taking his first digital camera for a spin. The AF, despite its good intentions, makes travesty of the great traditions of art photography that France is known for.
Moving on, the Bangalore Photography Club is displaying some of their members' work. Considering that these are amateur and hobby photographers, and calibrating my filter accordingly, I found this to be a much more satisfying experience, thanks to sensible selection and overall good design.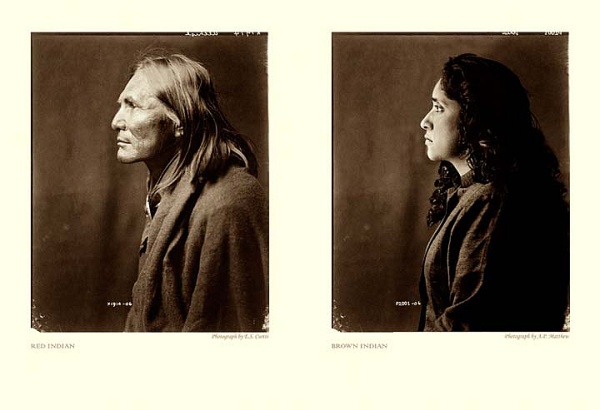 RED INDIAN/BROWN INDIAN. © Annu Palakunnathu Matthew
But coming to the point, we the contemporary photography-starved denizens of Bangalore must thank Tasveer for bringing us Annu Palakunnathu Matthew. In An Indian from India, Annu questions through a series of self-portraits, the notions of being seen as Indian. She uses sepia-toned ethnographic photography of the "exotic being" typical to the 19th century, the style of which is demeaning by today's standards.
One can do justice to this work only by viewing them as prints in a gallery, captions and all. So run to Tasveer while it lasts. Free to view; $4000 to take home.
Also showing is Memories of India, a collection of moody black-and-white images that recalls her childhood memories. Shot with one of those old plastic lens cameras, the images suffer strong vignetting, which is crucial to the concept of evoking a memory. (Speaking of plastic lenses and vignetting, Lens Culture features an interview with Michelle Bates, the "Holga Queen".)
* * *

In the beginning of 2005, I was a bloody mess. I hated my job, my job hated me back in double measure, and while life was rapidly snowballing downhill, I was increasingly becoming disgruntled with working in the US. Most people would have resorted to banned substances to overcome a similar situation. I chose, instead, to buy a camera.
From Monday to Friday, I slaved away in a cubicle 16-18 hours a day, receding motivation making days seem longer than they ought to be. Come Saturday, I would catch the first bus at 4:30am and find inspiration at Abraham Lincoln's feet or at the Iwo Jima Memorial. Life was like that. (See my first photographs)
July the Fourth snuck up on me one day, and I felt the urge to go see small town America. I picked a random town from the list on greyhound.com, and that town happened to be Providence. Because it sounded interesting in a weird way and because I could afford it.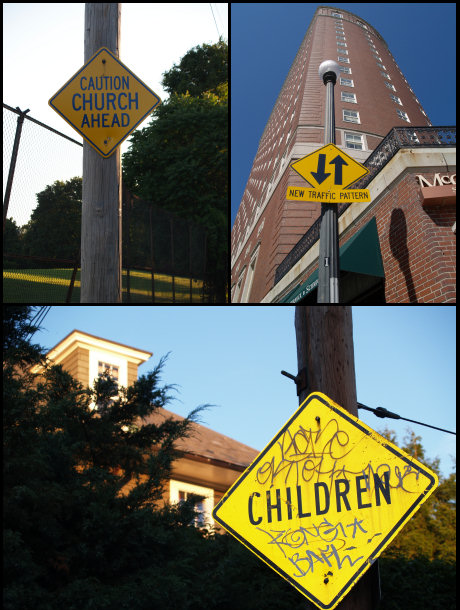 I saw the signs in Providence. July 2005
By fate or luck or whatever you believe in, that's how I landed in what turned out to be the home of Rhode Island School of Design, which at any given time is one of the Top 3 places in the world to study contemporary photography. It took me one visit to the RISD Museum to understand that the frontiers of photography were much, much further than I had ever imagined.
While I had many warm encounters at Providence that weekend, one that will persist in my memory was the feeling upon seeing An Indian from India by Annu Palakunnathu Matthew. Here was an example of how the most rigourous standards of photographic art and science brought together could express a frustration not unlike what I was going through at that moment in time. Annu was sticking the Great Indian Middle Finger at history and at America through her work.
Providence had somehow lived up to its name. I knew instantly that this is what I want to do with my life—adopt photography as a medium for my expression. Things moved fast from that point onwards. Within a month, I tendered my resignation, and another month later, I found myself looking through the window of a modest apartment in Paris. I saw ahead of me a new future of renewed hope and sweet uncertainty.
30/May/2007 (permalink)
Bangalore Loves Volvo
A week ago I had the pleasure of getting to know Helene Rothstein, a freelance journalist from Sweden, on a sabbatical in India. Helene will soon be joining a major newspaper in Gothenburg*. She wanted me to illustrate a few story ideas she had, one of which had to do with the many ways that Bangaloreans get to work.
So there we were on a busy-as-usual morning at a busy-as-ever intersection of the rather lawless Suranjan Das Road intercepting bank employees, flower sellers, and of course software types in their morning rush and asking them, "Are you heading for work?"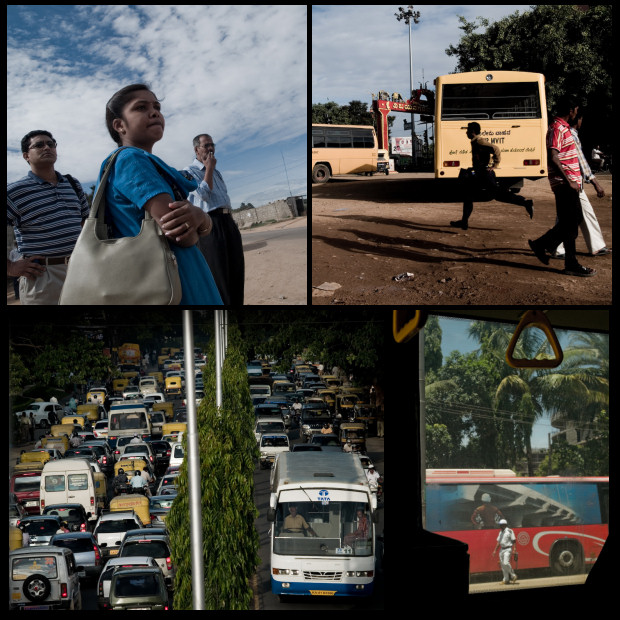 When it comes to public transportation, Bangalore has a love affair with the red Volvo buses. I thought it would be damn cool to visit the factory and see what goes on there. With a Swede on a J-Visa by my side, getting access was a breeze. Even the ex-serviceman security honcho whose communication skills was expectedly limited to one word—"Cameranotallowed"—was no match for Helene's credentials. I got my license to shoot!
India never had the benefit of Volvo cars previously. So when Volvo introduced their buses on inter-city routes five years ago (to coincide with new highway developments), the response was surprisingly resounding, making volvobus a brand by itself. For decades, Tata and Ashok Leyland created lorries that romanticised the inhumanity of long-distance travel, and buses that romanticised lorries. In came Volvo, and taught everybody that buses and trucks are different beasts. It was an absolutely fantastic experience to see and hear from an engineering perspective, why we love our volvobuses.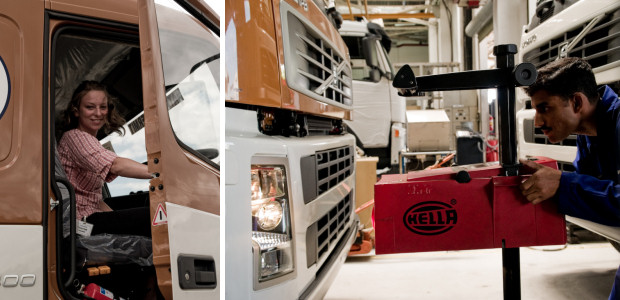 The highlight of the day was a visit to the driver training school on the campus. Mr. Nagaraj, who has trained over 15,000 drivers so far, took us on a tour of the test track and then offered the wheel to the first taker! Always game for try-before-you-buy, I jumped at the opportunity to take this macho toy for a spin (not too unliterally speaking). What followed in the next 10 minutes were actions that could potentially lead to the revocation of a driver's license. Of course, I didn't have one.
At this point, I have to confess my secret. Despite 30 years of a fruitful life, I have never driven a car. (This deserves a blog post of its own.) So when it came time to "just switch to first gear and slowly release the clutch," the truth was almost out. I had some trouble finding first gear! Through the sheer dint of biking knowledge, I managed the accelerator-brake-clutch coordination while Nagaraj obliged to take care of the gears for me. Some three kilometres later, we were back to the starting line.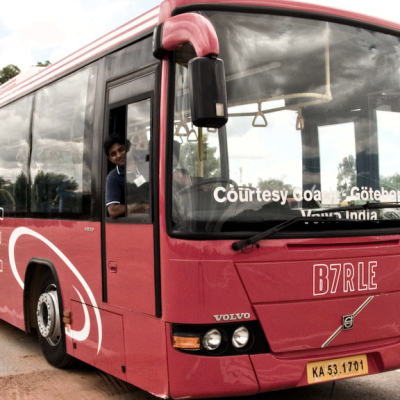 So there you have it. If you can ride a bike, you can drive a truck. There's nothing to it!
* Gothenburg, apart from being famous for its School of Photography, giving us demented contemporary photographers such as JH Engström, is also world headquarters of Volvo.
20/May/2007 (permalink)
Bangalore Midnight Marathon
So the last two times I made any effort to participate in a marathon, I woke up only to see the results in a Yahoo news alert. That's why I, and hundreds of other geeks like me with abused sleep cycles, could easily identify with the concept of a midnight marathon. What a great excuse to pull an all-nighter!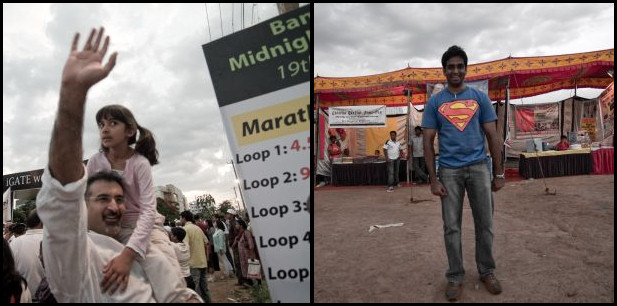 Of course, I was participating as a photographer. I haven't had as much fun since my days in Paris, where community events like these were mandatory target practice for us photojournalism students. This time, it was much more personal to me. I wanted to see New Bangalore in action. Man carrying daughter on shoulders. How often do you see that in Bangalore? Or people willing to pose for a total stranger, i.e. me. My lament that new Bangaloreans are generally unsociable in public places (as in city traffic) was happily put to rest. They were out in full strength, wearing their best humour and imported marathon gear.
If marathons are about stretching physical endurance to the limits, marathon photography poses a similar challenge to photographers. Before taking it on, I drew inspirtion from Alex Majoli's documentary on the 2006 NYC Marathon, titled "One Race. 37,000 Stories". Majoli isolates every runner from the background to acknowledge them as individuals running their own race for personal, heartfelt, and inspirational reasons.


See the Bangalore Midnight Marathon collection
17/May/2007 (permalink)
Photo Basics: The Messenger Pitch
So there's one photo that's been getting a lot more attention than I had anticipated. I've been getting calls about it. Some time ago, a collector wanted two prints from my Sri Lanka series to adorn his living room. After a LOT of pondering, he decided to buy two of the same prints and hang them side-by-side. Strange, but who's to argue!
This photo also sparked off an online chat with a friend recently. I thought it might be worthwhile sharing a quick lesson in the basics of photography.
pixiechix21:: how did you manage to get so much light in that bus pic in sri lanka?
msram:: it's the normal lighting from inside the bus, but shot late in the evening, so slightly longer exposure... and the light on the outside of the bus is from a street lamp
pixiechix21:: aperture and shutter speed... can you explain the difference between the two?
msram:: aperture is how wide the lens opens, shutter speed is how fast it opens (and closes)... together they control how much light enters the lens
pixiechix21:: so when do you decide that aperture has to open the most or least? meaning how do you decide?
msram:: if you want one particular exposure (amount of light), you can achieve it using various combinations of aperture and shutter speed. How do you pick a combination? Changing the aperture will vary the depth of field, i.e. how much the background will be in or out of focus. Changing the shutter speed will control motion (freeze a walking person or make him blur like a ghost)
pixiechix21:: so higher the shutter speed the more frozen the person is?
msram:: yes
pixiechix21:: and how does it work with the aperture?
msram:: the lower the aperture (i.e. f/2.8 instead of f/22), the more blurred is the background... but that's only in some cases... with a wide angle lens, if rarely matters... making the shutter faster and faster, you cut down the amount of light coming in. therefore you have to make the aperture wider and wider to get a good exposure.
pixiechix21:: so tell me, if its lower aperture it really means that the aperture has not opened wide enough, correct? or is it the other way around?
msram:: f/2.8 is a "wider" aperture than f/22 because we are talking inverse fractions here... 1/2.8 > 1/22
pixiechix21:: ok, thats what i was thinking, i knew smaller looking number was greateer than the bigger looking number... and how is shutter speed measured?
msram:: seconds... 1/200s, 1/60s, 1s, 1 minute even
pixiechix21:: ok! so tell me in the bus pic, what was the combination of the aperture and shutter?
msram:: I can't remember... you see, once we shoot the pic, we just forget about it
pixiechix21:: if you were to guess, i don't want numbers
msram:: I'd guess it was in the vicinity of 1/3s... rather slow
pixiechix21:: and thats shutter i believe?
msram:: yes, and the aperture must have been f/2.8, the widest I can get to allow maximum light at that shutter speed
pixiechix21:: cool! so how've you been otherwise?
07/May/2007 (permalink)
Tarkovskavian Deja Vu, Pinkhassovian Affair
Just a couple of weeks ago, somebody commented that they saw traces of Andrei Tarkovsky in my photographic style. Not knowing who Tarkovsky was (my ignorance), I wasn't sure what to make of it. I quickly put together a pair of images, for my own amusement more than anything else, made a mental note to myself, and left it at that.

As it happens, an exhibition in Paris is trying out a similar exercise. L'Image D'Apres at the Cinémathèque Française gets ten Magnum photographers to reveal how a director, film, or scene had influenced their work in some way. In typical art critic-speak, the curators write, "cinema creates the illusion of the real so that the spectator cannot doubt its verisimilitude; photography draws on the imagination to re-establish the truth of lived experience." Of course.
What does it mean to be influenced by anyone or anything at all? Jim Casper notes in Lens Culture, "each pairing is unique, so there is no formula, no repetition. It re-affirms how wide-reaching influence can be and how many different forms it can take." Check out the pdf dossier for an introduction to the photographers and their influences.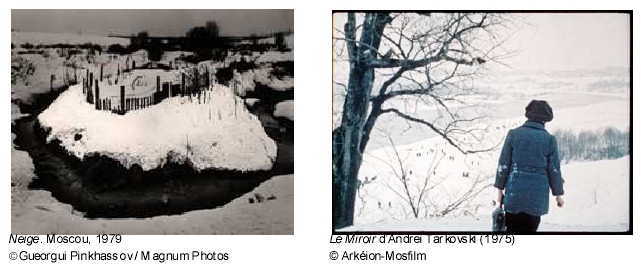 One of the photographers featured at L'Image D'Apres is Gueorgui Pinkhassov, whose greatest influence was from Tarkovskavian classics like Mirror and Stalker. The great director once told him, "If you see that someone works in your style, change your style."
Equally inspired by Italian screenwriter Tonino Guerra, Pinkhassov went on to capture slices of daily life in Moscow, an ordinarily impossible task at that time. He would shoot discretely from the hip, using the camera "like a revolver [that], just as in Russian roulette, hits its mark with sudden and unexpected precision." The process reminded him more of fishing than shooting, said Pinkhassov, and felt at times that the photographic angels above begged him not to look through the lens and allow them to do their work in peace. [Source: Magnum Stories]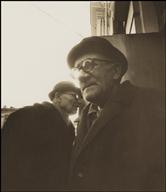 "
My shutter finger lowered at my waist reacted to a sudden, strange appearance on the street; a gentleman in a bowler hat. He was leaving a store just as I was entering it. And a second later I saw him inside the store again. I couldn't understand it, thinking he had just left. But the photograph in the end solved the puzzle. I had caught two men, standing nose to nose — exact doubles of each other. Had the shutter been pressed an instant earlier or later, the photograph could never have had such an avant-garde composition.
"
Photo: Men in the street, Moscow, 1979. © Gueorgui Pinkhassov/Magnum Photos


Minutes before I left for a holiday in Sri Lanka last December, I read Pinkhassov's autobiography. Completely bought into his approach to candid street photography, I tried to do a Pinkhassov while in the emerald isle, letting active composition take the back seat while reacting spontaneously to light, space, mood, and interactions. This, as opposed to staying rooted at one spot and waiting for something to happen.
While I'm not saying I advocate this 'technique', I think it worked wonders for me on that particular occasion. I was able to enjoy my holiday and let the angels do all the work!


See the rest of my Sri Lanka series.